0

(The Beatles)
MEMORIES OF THE BEATLES AND MY PARENTS
(Click on the blue links for more info)
Sunday, December 8, 2013 was the 33RD anniversary of the death of John Lennon.  Like many other folks, I suppose, I thought about that night in 1980 when my dad and I were watching TV, and a news item scrolled across the bottom of the screen announcing that Lennon had been shot outside the Dakota in NYC.  All I can remember is just feeling numb, much like I did when my parents passed away in 1997.  Which reminds me of a Beatles-related story concerning my parents (insert watery, out-of-focus dissolve here)…
Although I was born in Akron, I grew up in East Canton.  Sometime during the mid-1970s the Mellet Mall Cinema held a midnight showing of the Beatles' film Let It Be (they also once had a midnight showing of The Rocky Horror Picture Show, which was the first time I ever had toast thrown at me–in a theater, anyway–but that's another story).  I begged my father to take me.  I was in my early teens, so I couldn't drive.  My mother didn't drive, and we only had one car, so if I was going to go, my dad would have to be the one to take me.  He very graciously agreed to, even though he had to go to work later that morning.
I had never seen Let It Be, so this was a special occasion for me.  I loved every minute of it, despite the fact that in one scene Paul McCartney and George Harrison got into an argument on screen, and every so often I would have to tell my dad which Beatle was which, and who that little girl pounding on Ringo's drums during a rehearsal at Apple Studios was (that was Paul's adopted daughter Heather, for those of you keeping score at home…).
That night is one of my most cherished memories of my father.  Despite the fact that he didn't have an interest in the Beatles (being a WWII veteran, his music preferences were geared more towards big band music), he willingly took me to see a Beatles film, knowing full well he'd have to be at work in a few short hours.
As for my mother, she's the one that I can thank for my interest in the Beatles in the first place.  Like me, she was a real music fan, and in fact spent the early 1950s attending numerous shows here in Akron, including witnessing an early Elvis show at the Akron Armory during his Louisiana Hayride days.  She also got autographs from everybody from Minnie Pearl–who talked to my mother on the phone for over an hour one night after my mother saw her perform–to Grandpa Jones (who, I would discover many years later, played music on the radio with my wife's paternal grandfather) and Carl Smith, who was June Carter Cash's first husband.  My mom was also a huge Beatles fan, and she had all the early Beatles albums, including a budget label Beatles imitation album called The Beetle Beat by The Buggs, which my father got for her one night thinking it actually was The Beatles.  Oh, how my mother laughed!  Actually, I think she was pretty annoyed, but it's a really funny story.  She was such a Beatles fan that when I was about 4 years old, she suffered an aneurysm and when they performed surgery they had to cut all her hair off.  So…she bought a Beatles wig.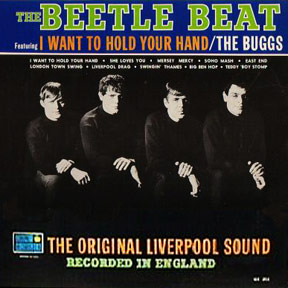 (NOT the Beatles.)
Growing up, I listened to my mom's Beatles records constantly, along with records by my other favorite 60s band, The Monkees (those were mine—or, rather, my parents bought them for me).  To this day, they are still my two favorite bands.  Yes, you can argue that technically one of them wasn't a real band, but that's for the Rock Hall to sit around and argue about.
John Lennon was shot and killed  outside the Dakota in 1980.  My parents both died in 1997, both from cancer.  My mom died first, and my dad went three weeks later.
I miss all three of them, tremendously.
 -   Ray Carmen
Here are some more great blogs on the Beatles….